Evonik extends cooperation with Acnis International for distribution of polyetheretherketone (PEEK) biomaterials of the group's VESTAKEEP® Implant and VESTAKEEP® Dental brands for medical implants and dental applications in France, Spain and Portugal.
Closer customer proximity and better service level
As of December 1st, Acnis and Evonik have signed an agreement to extend the successful partnership and jointly business growth for Evonik's PEEK biomaterials. Acnis will be the only distributor of the group's VESTAKEEP® Implant and VESTAKEEP® Dental high-performance polymers for medical applications in France, Spain and Portugal. The agreement includes all materials for long term body contact and ranges from granules over filaments to stock shapes (rods and plates).
Evonik's customers for PEEK-based medical products in France, Spain and Portugal will be served via Acnis as of December 1st, 2020. They will receive the same high-quality products as before and benefit from an improved Acnis's service level. Furthermore, due to a newly established warehouse for VESTAKEEP® medical products at Acnis's site in Chassieu (Lyon, France), customers can expect even shorter delivery times.
Sustainable business to be continued
"The distribution agreement with Acnis perfectly fits to our leading market growth position today and tomorrow", says Marc Knebel, Head of the Medical Systems market segment at Evonik. "With our VESTAKEEP® Fusion osteoconductive PEEK as well our 3D printable PEEK biomaterial we keep developing new medical grade materials which now can by introduced to the respective markets."
Acnis International is a leading distributor for medical grade metals. For many years now, Evonik have partnered with Acnis International in distribution of the group's VESTAKEEP® Implant biomaterials in South America. Both companies have developed a close relationship and successful business over the years which now is going to be continued.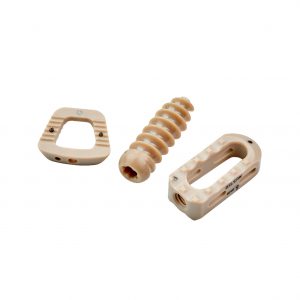 Introducing new PEEK biomaterials to drive market growth
Recently, Evonik has developed a new osteoconductive polyether ether ketone (PEEK) for the medical technology market that improves the fusion between the bone and the implant. With the introduction of the new biomaterial, the specialty chemicals company is launching a new product line of next-generation, PEEK-based implant materials that it will market under the brand name VESTAKEEP® Fusion.
Furthermore, Evonik is the first company in the world to launch a 3D-printable PEEK (polyether ether ketone) filament as an implant-grade material for medical applications. In so doing, the specialty chemicals company is setting new standards for developing and manufacturing custom-made plastic implants, which can now be created using additive manufacturing processes.
Evonik has been the world's leading manufacturer of high-performance polymers for medical technology applications for over 20 years. The specialty chemicals company offers an extensive portfolio of biomaterials suitable for use in manufacturing medical devices intended for both temporary and long-term contact with the body.