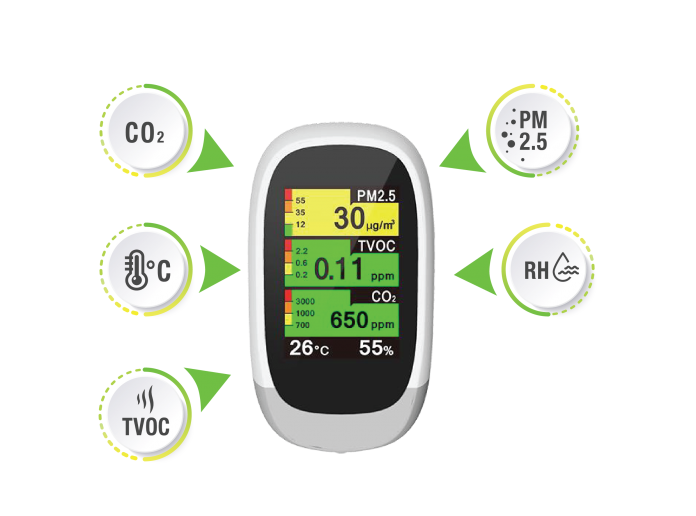 One of the pioneers of the air conditioning sector, Form continues to develop and present solutions to meet current and changing needs. Form developed NEFFES AQM Air Quality Measurement device to gauge air purifying and quality at interior areas that gained importance during the pandemic.
Coming forward with the value it ascribes to local production and R&D, Form continues to create solutions for improving air quality at interior areas that was one of the most visited questions during the pandemic process. Form swiftly developed NEFFES Air Purifier that was certified as "Biocidal Product without Active Substances" by the Ministry of Health and continues its air purifier product developments with NEFFES AQM Air Quality Measurement device.
Volatile organic compounds in interior areas evaporate easily in room temperature. Such particles that cause bad odor in interior areas as a result of this evaporation and can multiply for various reasons range from room sprays to cigarette smoke, paint to cooking. When they are not removed from the setting, they might cause irritation in eyes, nose, and throat, shortness of breath, headache, fatigue, nausea, dizziness, and skin problems. Some of such particles might be smaller than PM2.5 (particles with diameters of 2.5 micrometer or smaller). Such particles might be small enough to be inhaled deep into lungs. They might infiltrate into blood circulation and cause systemic diseases such as asthma.
Efficiently gauging air quality in interior areas
NEFFES AQM provides the user easy access to all required information while effectively measuring air quality in interior settings. The device ensures effective measurement of total volatile organic compounds and particle sizes with its four-color air quality index. Also it instantly reflects CO2 and moisture levels in the interior air. The device can be continuously used with its low energy consumption and ultra-silent structure by creating no pollution. Its ergonomic structure presents its user the opportunity to measure air purity in any interior area.
Purify your air with NEFFES
NEFFES Air Purifier that was produced at İzmir facility of Form as a 100 percent local product purifies air in interior areas by removing harmful microorganisms and makes it safe thanks to it 4 filter structure including HEPA filter and UV-C technology. NEFFES received the full score at both "fungus and bacteria disinfection" tests approved by the Ministry of Health and conducted by an accredited test company linked with Ege University. According to most recent tests, NEFFES is the pioneer product in Turkey that passes air disinfection tests from fungus that is one of the most difficult microorganisms to neutralize. Also NEFFES comes forward among its competitors as the Air Purifier that is certified as "Biocidal Product without Active Substances" by the Ministry of Health. Its certification ensures companies can easily receive the required Safe Business Certificate.
All NEFFES products are presented at authorized dealers such as more than 70 Mitsubishi Heavy Industries concept stores and Form Industry Facilities to everyone that wants to purify and breathe healthy air.