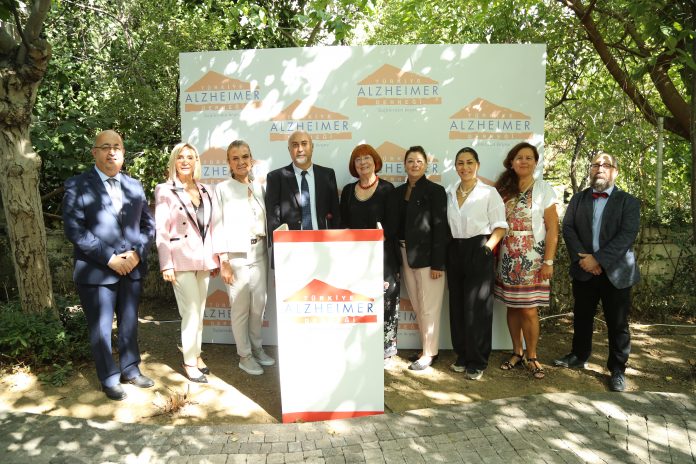 The Turkish Alzheimer Association held a press conference on the occasion of September 21, World Alzheimer's Day. The meeting held at Şişli Gündüz Yaşam Evi was attended by Prof. Dr. Başar Bilgiç, Prof. Dr. Işın Baral Kulaksızoğlu, Prof. Dr. Türker Şahiner, Prof. Dr. Barış Topçular, Assoc. Dr. Nil Tekin, Dr. Lecturer Bedia Samancı, Director of The Turkish Alzheimer Association, Füsun Kocaman and Association Vice President Ayşin Ekşioğlu. At the meeting, which was attended by the members of the association and the relatives of the patients, remarkable developments regarding the treatment and diagnosis of Alzheimer's were shared.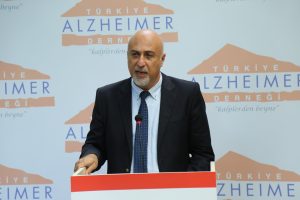 Making important statements about the treatment of Alzheimer's disease, President of the Turkish Alzheimer Association Prof. Dr. Başar Bilgiç talked about new drugs that give successful results in early Alzheimer's patients. Noting that a new era may begin in Alzheimer's treatment, Prof. Dr. Bilgic said the following on the subject:
"In mid-2021, the US Food and Drug Administration (FDA) gave conditional approval to a drug called "aducanumab" and decided that it could be used in early Alzheimer's patients. The aforementioned drug effectively clears the brain of "amyloid", a protein that starts to accumulate in the brain in Alzheimer's disease, before the patients' symptoms begin. In contrast, early phase 3 studies of this drug show a partial clinical benefit only in a certain group of high-dose drug users. With this development, it has been shown that another drug that acts with the same mechanism in the current year has a partial effect in early Alzheimer's patients."
Underlining that with these two important studies, a different period has been entered in the treatment of Alzheimer's disease, considering the partial clinical effect of drugs, Dr. Bilgiç also conveyed the debates brought about by new developments in treatment. Stating that especially those who think that the amyloid protein accumulated in the brain is not harmful, they reacted to the approval of the drug, Prof. Dr. Bilgiç noted that the discussions will end with the revealing of the relationship between this protein and the disease. While these heated discussions were continuing, it was announced at the World Alzheimer's Congress that the phase 3 study of another drug called "masitinip" had ended positively. Prof. Dr. Başar Bilgiç stated that all these developments can be considered as the most important developments in Alzheimer's disease in recent years.
Nurettin Tan, Deputy Mayor of Şişli Municipality, who attended the press conference, said, "I would like to state that we, as Şişli Municipality, have always been a supporter of Şişli Gündüz Yaşam Evi (Day Care Center), which we have implemented together with the Turkish Alzheimer Association. You are doing a very sacred duty. I am also very happy to be with you. I offer my respect and love to my teachers and healthcare teams" and he conveyed their support.
Prof. Dr. Işın Baral Kulaksızoğlu: The pandemic has increased the stress near the patient
Prof. Dr. Işın Baral Kulaksızoğlu, Member of Board, The Turkish Alzheimer Association, informed about how the caregivers of dementia patients were affected by the pandemic process in her speech at the meeting. Stating that this process increases the stress in the patient's relatives, Prof. Dr. Kulaksızoğlu said, "Especially Alzheimer's patients with advanced disease and their relatives experienced a more significant increase in stress during the Covid-19 period. Since going to the hospital carries a risk, routine examinations were disrupted and the mobility of the patients decreased significantly, especially due to the disruption of physiotherapy."
Emphasizing that stress increased in 92% of patient relatives during the pandemic period, Prof. Dr. Kulaksızoğlu stated that the fear of carrying Covid-19 from outside to the patient and difficulty in trying to comply with the disinfection and isolation rules are the main factors that cause stress.
Prof. Dr. Türker Şahiner: Controlling air pollution can reduce Alzheimer's risk by 14%
Speaking at the meeting about the effect of air pollution on Alzheimer's, Prof. Dr. Türker Şahiner, Member of Board, The Turkish Alzheimer Association, shared important data. Emphasizing that the increasing air pollution in the world is a serious risk factor for dementia, Prof. Dr. Şahiner cited a study that was presented at the World Alzheimer's Congress on this subject and has more than 10 years of follow-up results:
"This research; showed that if we can keep the level of toxic gases (NO2) from motor vehicles and very small particles (PM 2.5) that can be suspended in the air for at least 10 years, we can reduce the risk of Alzheimer's disease by 14%. Similarly, another study conducted in France showed that all dementias could be reduced by 15% with the reduction of only very small particles (PM 2.5) in the air."
Stating that toxic wastes released in the air bind to the blood-brain barrier, cause a non-microbial inflammatory reaction in the brain and increase the levels of Beta-Amyloid protein accumulated in the brain of Alzheimer's patients, Dr. Şahiner said, "All these results show that we need to breathe clean air to reduce our risk of dementia, use electric motors instead of internal combustion engines, and turn to environmentally friendly energy sources."
Prof. Dr. Barış Topçular: We have witnessed important developments regarding the diagnosis of Alzheimer's
Pointing out that there have been important developments that facilitate the diagnosis of Alzheimer's in the last two years, Prof. Dr. Barış Topçular, Member of Board, The Turkish Alzheimer Association, said:
"Cerebrospinal fluid markers are currently used in the diagnosis of Alzheimer's disease. To reach this clear fluid, an intervention called lumbar puncture is required, and this is the main factor limiting the prevalence and use of this diagnostic method. For this reason, today, studies are continuing to diagnose the disease and follow its course, especially with tests made from serum, that is, blood, and we have witnessed important developments in this field in the last two years. The most prominent method in this field is to look at the levels of the protein called Tau in the serum of the patients."
In addition to these, the detection of the protein called neurofilament in the blood provides important information especially for the differential diagnosis and course of the disease, Prof. Dr. Topçular underlined that they expect these methods to become widespread during the diagnosis of the disease in the near future.
Assoc. Dr. Nil Tekin: We generated our national dementia strategic plan
Assoc. Dr. Nil Tekin, Member of Board, The Turkish Alzheimer Association, on the other hand, underlined the need for a national strategic plan for dementia diseases in Turkey, where the elderly population is increasing.
Emphasizing the necessity of planning support services to be provided in order to prevent dementia, early diagnosis, informing, providing quality care, and increasing the quality of life of the patient and their families, Assoc. Dr. Tekin shared their work on the subject as follows:
"With the National Strategic Plan Study, it is aimed to increase awareness of the disease, to reveal unique approaches to our country, to create national action and effective change. For this purpose, the study report prepared by the Turkish Alzheimer's Association Dementia Working Group has been submitted to the relevant institutions as of October 2020, and the cooperation processes continue."
Lecturer Dr. Bedia Samancı: Covid-19 negatively affected dementia patients"
Expressing that the Covid-19 infection, whose relationship with many diseases is discussed, negatively affects Alzheimer's patients and the human brain, Lecturer Dr. Bedia Samancı, Member of Board, the Turkish Alzheimer Association, shared the researches on the subject.
Many studies have shown that Covid-19 infection is more severe and fatal in advanced age, especially in those with additional diseases. Stating that dementia patients are also affected by Covid-19 for this reason, Dr. Samancı stated that the fact that patients are isolated from the social environment they need and are used to during the pandemic and that many of them cannot use the technological tools used for socialization have a negative effect. "This situation causes dementia patients to become withdrawn and lead to cognitive and behavioral deterioration. For these reasons, it is of great importance to provide timely and appropriate health and psychological support to dementia patients and their relatives, and to be vaccinated in order to control the infection," and Samancı continued her words as follows:
"In a recent study conducted at New York University, Grossman School of Medicine, it was reported that plasma biomarkers associated with neuroinflammation and neuron damage were significantly higher in Covid-19 infection patients with neurological symptoms and hospitalized compared to those without neurological symptoms. results were correlated with serum biomarker results associated with Alzheimer's disease. Based on these results, researchers suggested that Alzheimer's disease symptoms and pathology may be accelerated in people with Covid-19 infection and accompanying neurological findings. However, more studies and longer-term follow-up of patients are needed to reach definitive conclusions.
Giving information about "Prolonged-Covid", another situation that mostly concerns the older age group, Dr. Samancı emphasized that many healthy people have memory disorders, thinking and concentration difficulties, brain fog, and orientation defects after Covid infection.
Füsun Kocaman: "As of March 2020, we have moved all our services to online channels"
Speaking at the meeting about the activities of the Alzheimer's Association of Turkey during the pandemic process, the General Manager of the association, Füsun Kocaman, said:
"Starting from March 2020, when the pandemic started, our association has moved all services online and continued to support patients and caregivers by using digital communication channels and social media. This support includes information on health measures related to Covid-19 and dementia, restrictions on the pandemic, emergency applications, applications for economic / psychological aid, and guidance on social and legal issues.
Kocaman also published three booklets titled 'Frequently Asked Questions and Answers about Alzheimer's Disease and Other Types of Dementia and Covid-19', 'Covid-19 Recommendations for Alzheimer's Patients and Caregivers', and 'Effectiveness Guide for Alzheimer's Patients at Home'. She added that it was published on the website of the European Alzheimer's Association.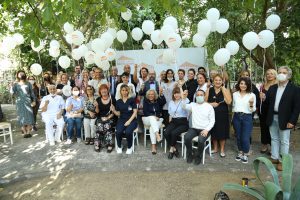 Emphasizing that they benefited greatly from digital tools in order to ensure that patients had a good time and to be informed in this process, Kocaman underlined that they did not leave the patients alone in this process with innovative applications such as 'Digital Tea Time', 'Digital Grandchild' and 'Tell Me a Story'.