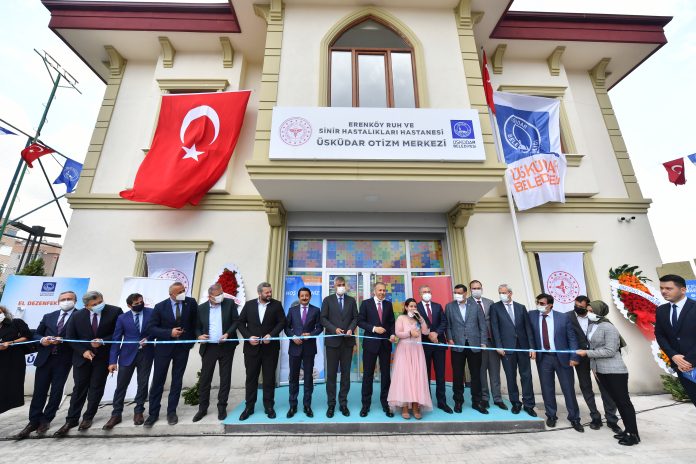 Turkey's most comprehensive and developed Autism Center was opened in Üsküdar. A first in Turkey with its diagnosis, treatment planning, treatment follow-up and family-specific training, Autism Center will offer a roadmap to individuals with autism and their families.
 Üsküdar Municipality, which is shown as a model in social municipality in Turkey with its projects and services that touch the lives of people of all ages and from all walks of life, has signed off on another project that is the first in Turkey and has a very few examples in the world, together with the Ministry of Health. Autism Center, which has the distinction of being the first in Turkey with diagnosis, treatment planning, treatment follow-up and special trainings for families, was put into service with a ceremony held with the participation of Istanbul Governor Ali Yerlikaya, Istanbul Provincial Health Director Prof. Dr. Kemal Memişoğlu and Üsküdar Mayor Hilmi Türkmen.
 At the ceremony where the participation of children with autism and their families was also observed, it was emphasized that Üsküdar Municipality will bring its success in social municipality to the top with the Autism Center developed by considering "accessibility" and "equality of opportunity" for everyone.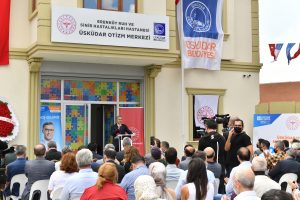 Ali Yerlikaya, "There is unrequited love in its spiritual pleasure"
Congratulating Üsküdar Municipality for taking pioneering steps in social municipality, Istanbul Governor Ali Yerlikaya emphasized that it is very important to diagnose autism in a timely manner, he said, "Since March 2018, approximately half a million of our children aged between 18 and 36 months have been screened in 39 districts of Istanbul. Out of 21,285 puppies found at risk, 1388 were diagnosed with autism and were protected. With our project that has been going on for 3 years, we quietly reached our children in our city. Our autistic individuals, who have received autism outpatient services in 19 hospitals in our city, will now be able to benefit from this center free of charge within the scope of SSI. The burden on the shoulders of the families will be taken, at least a little. There is a very strong material in the spiritual pleasure of this center, which was built with this understanding. We call it unrequited love. We heartily applaud our Mayor of Üsküdar, who did not spare this."
Üsküdar Mayor Hilmi Türkmen, who pointed out that as Üsküdar Municipality, broke new ground in social municipality with the Autism Center, said the following in his speech at the opening: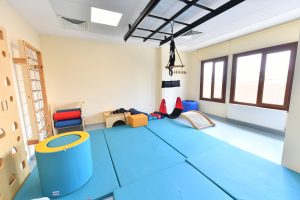 Hilmi Türkmen, "It will be the gateway to autistic individuals and their families"
"Our project, which we have implemented with the support of our Ministry of Health and the contributions of our Provincial Health Directorate, will inspire and set an example for future projects as it is the first in Turkey. Beyond being the first, this is actually a late project. This project is an extension of the Barrier-Free Life Center that we launched 3 years ago. Thus, we are putting a very meaningful project into service. We have completed our project with the experience of our Ministry of Health and the opportunities of the World Bank. The subject of autism is unfortunately a somewhat forgotten subject. However, this issue has grown. While every 250 children were diagnosed with autism in the early 2000s, today this number has dropped to 40. Danger bells are ringing. We believe in the importance of education in order to raise awareness of the society and guide families. With the efforts of our professional team and specialist doctors, our center will meet an important need in Istanbul. It will carry out exemplary studies on autism by working in coordination with our Disabled Living Center. Our center will be a gateway to our autistic individuals and their families."
Will provide a roadmap to individuals with autism and their families
The Autism Center, which was designed by Üsküdar Municipality to raise awareness and sensitivity towards individuals with autism syndrome, will offer a full roadmap to individuals and families with autism. In the center, which will be a first in Turkey, diagnosis, treatment planning and treatment follow-up processes will be carried out under one roof. Families will also be provided with training. Individuals and families of all ages and walks of life will be able to benefit from the center.